Oregon's Best Family Vacation Campgrounds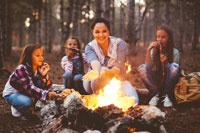 Browse our guide to the best family camping spots in Oregon. Find campgrounds with activities and attractions that are favorites with children of all ages, from swimming to fishing, campfire programs to Junior Rangers, horseback riding to hiking trails.
All of the campgrounds on our Oregon's Best Camping website are good family destinations. Certainly nearly any of our lake and beach campgrounds would make excellent vacation destinations for families. On this list of Family Vacation Campgrounds we have highlighted the very best for each region -- campgrounds with the most to offer families with children and teens.
Cascade Lakes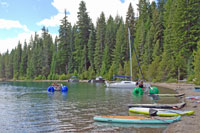 Crescent Lake Campground sits on the shore of beautiful Crescent Lake. A nearby beach area is a popular gathering place for launching all kinds of watercraft from paddle boards and pedal boats to sailboats and ski boats. Also popular are swimming, hiking, fishing, and mountain biking.
The nearby Crescent Lake Resort rents Sea-Doos, fishing boats, kayaks, Aqua Cycles, and paddle boards.
North Coast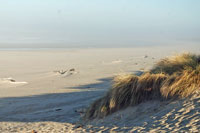 While nearly any campground near a sandy beach has plenty of attractions for children, South Beach State Park offers even more. Activities include biking on a paved jetty trail (bike rentals available at the Hospitality Center), a playground, horseshoes, and disc golf. In the summer there are guided hikes, kayak tours, interpretive programs, and Junior Rangers.
Nearby in south Newport visit the Mark O. Hatfield Marine Science Center and the Oregon Coast Aquarium.
The campground at Devil's Lake is only a 10-minute walk from D River State Recreation Site with a great beach. All kinds of boating are popular at Devil's Lake from kayaks to jet skis. Boat Rentals are available. Swimming and fishing are also favorite activities. Summer interpretive programs are offered at the amphitheater. Join in the fun of Lincoln City's Finders Keepers when colorful, hand-crafted glass floats are left at random places on area beaches for anyone to find and keep.
Cable TV is available at some campsites.
South Coast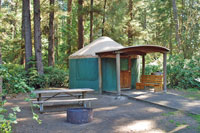 Two lakes within Honeyman State Park provide some great recreation. Cleawox Lake is a favorite for swimming with its sandy beach and diving platform. Non-motorized boats are permitted on the lake. At much larger Woahink Lake swimming is also popular at the sandy beach and swim area. Fishing is good for cutthroat trout, rainbow trout, and largemouth bass. A Welcome Center in the park has bicycle for rent. Nearby is a playground. Evening programs are offered at the amphitheater during the summer.
From October to April, ATVs can drive directly onto the Oregon Dunes National Recreation Area from H Camping Loop.
Umpqua Lighthouse State Park, near the center of the Oregon Dunes National Recreation Area, serves as a good base for those headed out for some OHV riding. ATVs can be rented in nearby Reedsport and Winchester Bay. The campground is next to Lake Marie, which is popular for non-motorized boating, fishing and swimming from a beach area. A nature trail leads around the lake.
Crater Lake Area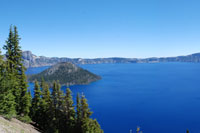 Crater Lake National Park has many scenic wonders that can be appreciated by taking the drive around the lake and stopping at some of the more than 30 pullouts. In the summer ranger-led activities include ranger talks, Junior Ranger activities, afternoon hikes, and evening programs at Mazama Campground. Trolley and boat tours are also available. Those hiking down the Cleetwood Cove trail to the lake can also fish and swim (brrr!) at the cove. Many other hikes are available.
Complete facilities are available at Mazama Village, including stores, restaurants, laundry, and showers.
Diamond Lake Area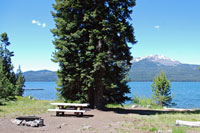 With 238 campsites spread along the shore of Diamond Lake, it is likely children and teenagers will make plenty of friends during their stay. Bring your bicycles and ride around the lake on a paved trail. Fish for trout from shore or boat. Head out kayaking or paddle boarding. Nearby Diamond Lake Resort rents fishing boats, patio boats, pedal boats, bumper boats (sure to be a hit with kids). They also rent mountain bikes. Also nearby, Diamond Lake Corrals offers trail rides from one hour to all day. In the summer the campground provides campfire interpretive programs.
The campground has hot showers.
Willamette National Forest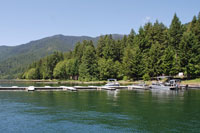 Nine-mile-long Detroit Lake has plenty of room for boating, water skiing, and fishing. Near the campground are designated swim areas and an accessible fishing dock. Visitors also enjoy horseshoes, volleyball, and basketball. With 270 campsites children and teenagers are bound to make plenty of new friends. During the summer children can participate in the Junior Rangers program. Hot showers are great after a day at the lake.
Mount Hood National Forest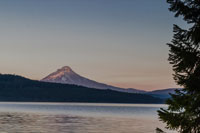 Timothy Lake is surrounded by great campgrounds. Pine Point is one of the best. The lake is popular for fishing and non-motorized boating. Canoes, kayaks, stand-up paddleboards, and kayaks are often seen on the lake. Hiking, mountain biking, and horseback riding are also favorite activities at Timothy Lake.